Puppy & Dog Training
Our Dog Training Day Camps offer a whole new affordable program for training. Our Dog Trainer will work with each dog individually to figure out their weakest points. Then together, your dog and their trainer will begin a fun adventure into the real world to overcome their weaknesses.
Many misunderstandings begin when a pet has been trained in a "classroom" type setting and then reacts inappropriately in a different setting. This class is designed to be easy and stress-free for everyone involved – including your pet.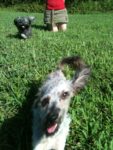 We understand that some pet parents need something a little different than normal obedience classes. You may not be ready to train your own dog after only touching on the very basics yourself. We also understand that many of our community members are unable to pay a thousand dollars or more for a dog trainer to train their pet for them.
Socialization and desensitization are key to training and will be the main objective when working with dogs in any of our Training Day Camps.
This Pet Service is especially focused on providing help to the following low-income homes: seniors 50+, individuals with an illness or disability, and single parents. However, anyone experiencing financial difficulty may qualify for a sliding fee.  Applying for financial assistance is easy! Too many pets are relinquished to animal shelters because they lack enough socialization, exercise, or training. So, before you get too frustrated, contact us today and don't hesitate to apply for financial assistance.
Your puppy will learn potty training, basic manners, bite inhibition, and receive valuable socialization. And the best part is, we don't put an age limit on puppies! As long as they are not overly reactive or fearful, they will always be puppies in our eyes!

This course is for dogs over six months of age. If your dog cowers at the smallest of things, then this course will help. Your modest dog learning to accept cuddles and tolerate different people, pets, and environments can make you and your pet much happier.
Reactive Rover Day Camps are for dogs over six months of age with known reactivity (e.g., raised hackles, increased arousal, barking, lunging, or growling, etc.). Some of the things that can cause your dog to be reactive to other dogs include leash frustration, over-excitement, or even fear of other dogs, people, or situations.
______________________________________________________________
Free Dog Training Videos (55 videos included)